Witham Hall Production of Matilda Jr.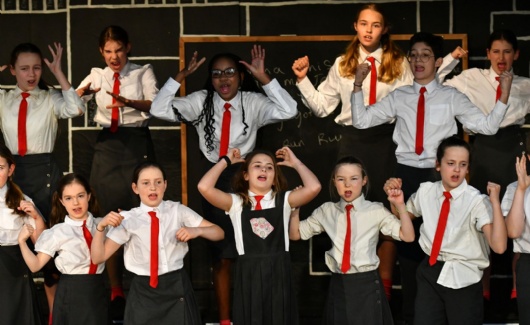 Witham Hall pupils staged the grand finale of the Lent Term 2022 with two magnificent performances of Matilda Jr in the Stimson Hall Theatre.
This was the first prep school play that has been performed to a live audience since 2018 and the cast did not hold back. Audiences on both nights laughed and applauded two clever performances by our Matildas, played by Isadora R and Matilda J; terrifyingly convincing Trunchbulls, played by Albie L and Archie G; gentle souls, Ella C and Flora W, portraying Miss Honey; and a host of Revolting Children in supporting roles. The show would not have been such a magnificent success without the support and contribution of a number of staff and pupils behind the scenes. The Witham community simply couldn't be prouder of what was a magnificent production.